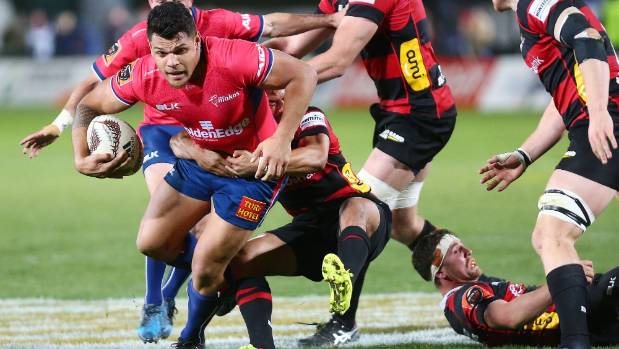 Always a player with immense potential, Levi Aumua has played rugby league at the Bronco's under 20s program, Qld Reds 20s and rugby for Bourdeaux in the European Challenge Cup.  Still only 23, it seems he may have found his home in NZ where his form in the Mitre 10 Cup has earned him a dream Super Rugby gig with the Waikato Chiefs.
We touched base with Levi in Nelson, New Zealand, the home of the Tasman Makos.
It has been an interesting journey Levi how have you found your time at Tasman?
The Tasman Makos has been a breath of fresh air for me. The Makos players, management and staff have welcomed me with open arms and made me feel at home. The camaraderie between the players has helped me fit right in and the support from the senior players has been huge in helping me settle in and get on with my development. The management are the best I've been involved with. Their professionalism and knowledge is amazing. They've been very approachable and genuinely want to help me develop and reach my potential.
What is the Kiwi system like? Any major differences to the other programs you have been involved in?
If I compare it to the NRC, I've discovered that the Kiwi rugby system is light years ahead. I feel like although I've been playing rugby all my life, I'm actually learning how to REALLY play the game. The playing systems I'm learning are very technical and nothing is left to guesswork. The coaching staff thoroughly go through every scenario and play and make sure that I understand everything I need to know. There is a huge amount of classroom time, it's actually like being back at school. I struggled at first but am getting better with every session. The professionalism of the management and their easy manner goes a long way to helping me learn and cope with some of the pressure.
What has made the difference in your career over the past year?
Looking at where I am now compared to a year ago, the change is immense. This time last year, due to some personal challenges, my motivation was probably at a low point. My fitness and health suffered and rugby was becoming a burden instead of something I looked forward to doing every week. I even questioned whether I wanted to continue playing.  Roll on a year and I couldn't be happier. Being with the Makos family has sparked my motivation and desire to progress my rugby to the next level. I've learnt a lot about myself as a player and as a person and I am extremely grateful to be given the opportunity to play at this level with a fantastic bunch of guys.
What was the catalyst for change?
The catalyst was newSTAR's call from New Zealand offering me a place with the Makos. In a way it's what I've been waiting for and the timing was perfect.
How to you keep improving and motivating yourself?
The guys that I train and play with every day and every week are my motivation. They keep me honest and remind me that my position isn't set in concrete. The competition is healthy and drives me to stay focused and keep evolving. My dream of maybe one day putting on a 'Black Jersey' is also a major motivator.
Who has helped you get this far?
Without a doubt, my family. I thank them for getting me where I am and for believing in me all the way. They are my biggest inspiration, motivation and keep my feet on the ground. None of this would be possible without them. Also newSTAR for having faith in my ability and pushing me when I needed it. They've stuck by me and opened doors I thought might have closed.
Where to from here?
I've come to the realisation that anything is possible as long as you work hard to achieve your goals and listen to good advice. Nothing comes to you without putting in the effort and making sacrifices. I'm going to focus on where I am at the moment, do my best to deliver the goods and keep looking up to the sky.