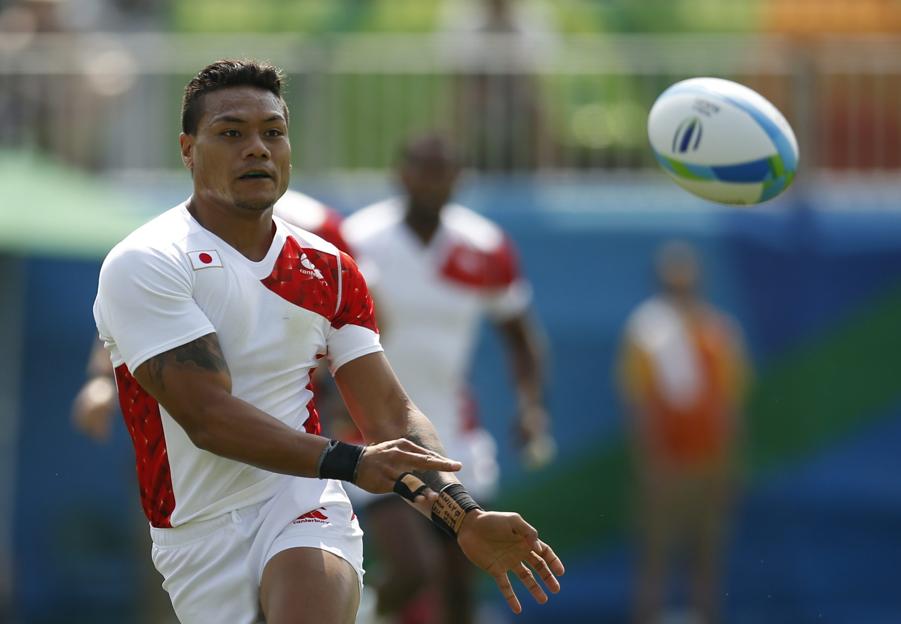 Former Sunnybank colt and Brisbane boy Lomano Lemeki's dream rugby run continued in 2016.  In a career spanning 8 seasons in Japan, Lemeki has played for the national 15s side and was a star performer for the Japan 7s team in the Rio Olympics.   
"It was an awesome experience. I've played in a lot of 7s tournaments but nothing like the Olympics. The atmosphere around the Athletes Village, being with a group of elite athletes, it was crazy! Seeing all the best athletes in their chosen sports all in the one place was overwhelming. There was just a buzz about the place that I can't describe or forget. I still get it when I think rugby allowed me to compete at the Olympic Games."
Japan surpassed all expectations, giving incredible performances throughout the entire competition. This culminated in their defeat of the mighty New Zealand side to make the semi-finals. 
"We went into the games excited, with no pressure at all. Knowing not a lot of teams would worry too much about us being underdogs, worked to our advantage. Particularly against New Zealand. We knew they were a good side but were not as athletically gifted as other teams. They didn't have real speedsters that could change the game but they did have a wealth of experience and good footballers. So for us, we tried to keep the ball out of play as much as possible and just slow everything down to disrupt their rhythm and their style of play."
After playing for  Sunnybank Colts in Brisbane , Lemeki moved to Japan to play professional rugby for Canon. He was just 20 years old.
"It was a new challenge but one I was excited about! Up until then I had always lived at home and I had never lived by myself, let alone getting a 3 bedroom apartment to myself. It was tough at first with the language barrier and the cultural differences but everyone was so helpful and went out of their way to assist me. Cooking was a big challenge because I always had my mum or my sisters cooking for me, all the time, at home. I didn't even know how to cook!"
"I love Japan.  I also met my wife here and we have two boys who are 2 and 4 years of age. Still, when I finish up with footy I will most likely be moving back home to Brisbane with the family." 
Having been in Japan for the past eight seasons,  Lemeki has made Japan his home and has settled into the different game style there.
"Compared to Australia it's a lot faster, not as physical, but still really enjoyable. The best part about playing in Japan is meeting a lot of different players and making new friends and team mates. Players that you never thought would be playing with as team mates or opponents. Ex-All Blacks players, Wallabies and Springboks.  It gives you a chance to enjoy playing rugby and get on the field with some really talented players."
Despite HONDA being relegated to 2nd division for the upcoming season, Lemeki remains positive about the club's potential and future.
"It's been good playing for Honda.  Just like any other club you have your ups and downs. Honda is my 3rd club since I've been in Japan and it's my 4th season with the club. We have a great bunch of boys here. It's a great club with huge potential, but in saying that, things haven't gone so well this season. We have been unlucky with injuries and some of the game outcomes but there are a lot of changes being implemented so there is a bright future booked in for the years to come."
For Lemeki reflecting on all he has achieved in the past year motivates him to look forward. His future looks bright with the 2019 World Cup and 2020 Olympics looming. 
"I suffered a season ending knee injury in the November International Tests. Still, I'm happy I got to achieve what I did this year. The only setback is that I may not be making my Super Rugby debut this year for the Sunwolves due to my knee injury. However, in the long run it is better to get injured now rather than just before the World Cup! The goal for the next few years is to be a regular international player and earn my spot in the 2019 World Cup squad."
Never content to sit back, Lemeki continues to strive. 
"If I can achieve that, I would be very happy with my rugby career. No matter what happens after that. If everything goes well, the year following the World Cup holds the Tokyo Olympics. I continue to believe that with hard work that could be a possibility. Until then, thank you for the support. I believe the best is yet to come."